Get Back Up to 25% of Your Marketing Team's Time
Professional. Consistent. Timely. You need all of these from your marketing execution and distribution. And our Visualogistix® solution helps you get there. The Thomas Printworks team of experts can partner with you on everything from print production to digital signage, direct mail to promotional products and distribution to installation. Our extensive experience allows us tailor a program to fit your needs and become your trusted adviser ensuring consistent delivery of all your marketing needs.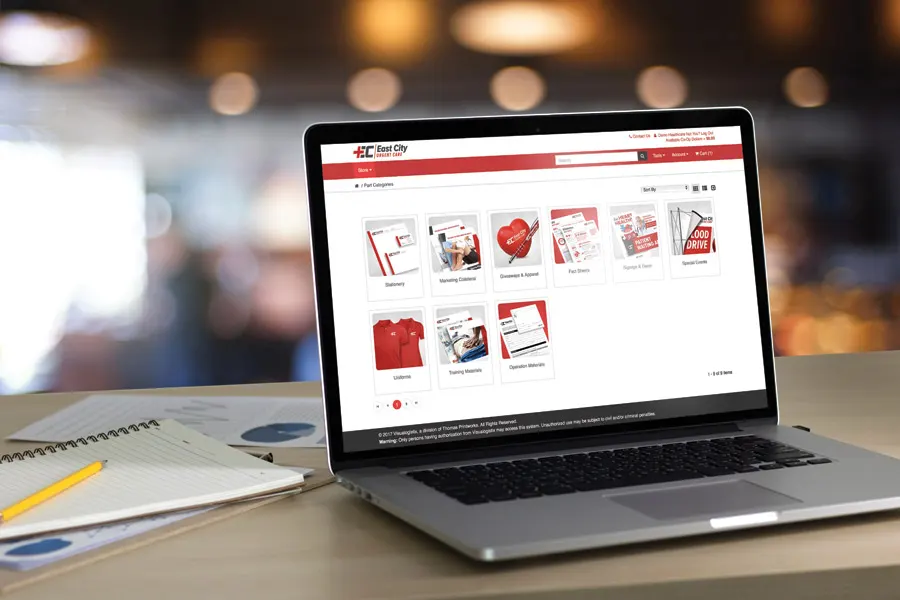 For growing companies, especially franchises, local store marketing is a necessity and yet also sometimes a burden. How can you make the process specialized and unique for every franchise location? How do you know if you are implementing the strategies properly and cost-effectively?
A management solution designed for this situation should be easy to use, priced reasonably, and provide a way for franchisees to order, receive, and execute the marketing strategy and materials. Visualogistix® is a full marketing supply chain management solution developed by Thomas Printworks that does all of this in an effective, accurate and timely manner.
40%
Reduction in Art Load

Source: Visualogistix clients
Our solution includes project management services, design coordination, a branded web-based ordering portal, product sourcing, print/production, inventory management, distribution, customized billing, and robust reporting services. Every piece of the puzzle plays a critical role in ensuring consistency across the entire company, no matter the location or individual.
As a one-stop provider, we are committed to delivering optimal quality, a painless experience, and complete success and satisfaction to you and your entire company. We find creative ways to adapt to your unique needs and accomplish the impossible. You can count on us for superior service, excellence, and integrity, anytime and with any project.
Contact a Specialist
Our Supply Chain Solution Offers:
Design – Our creative team, design personnel, and programming staff coordinate all design aspects and implement the best solution to reach your goals. We always aim for brand consistency in design as well as message, colors, and images.

Project Management – Let our client success managers watch over every detail of your marketing supply chain from start to finish. Their experience and service ensure your satisfaction.

Ordering – Try out our industry-leading, web-based ordering portal. The simple online interface gives you complete control of your marketing content and brand standards, while allowing for local market customization and flexibility.

Sourcing/Production – We create every item you can think of: signs, stationery, banners, direct mail, apparel, promotional products, and so much more. Materials are produced according to your specifications and with precise quality.
Inventory – Our warehouses provide storage and management for all of your marketing materials. We keep track of your inventory so you can focus on your top priorities.

Shipping – Our distribution services send everything you need how, where, and when you need it. We do all we can to keep the process simple and stress-free for you.

Invoicing – We provide customized billing and integrated invoicing capabilities designed to reduce complexity and decrease the time it takes to approve payments and keep projects moving.

Reporting – You will be empowered to make the most informed decisions when you get instant access to key usage and inventory data generated by our robust reporting services.