Streamline Your Marketing Supply Chain with Visualogistix
Professional. Consistent. Timely. You need all of these from your marketing strategy, execution, and distribution. And Visualogistix® helps you get there. The Visualogistix team of experts can partner with you on everything from developing marketing strategy to content creation, from print production to digital signage, from distribution to installation. And our extensive experience allows us to become your trusted advisor to ensure consistency and success for all your marketing needs.
Visit Website
From the Thomas Blog
You know, numerous titles came to mind for this blog. "Pandemic Marketing", though true, sounded like it was fit for a sci-fi movie. "Marketing to Our Upside Down World" was maybe a little too dramatic — though we have been thrown off our normal activities, society isn't falling apart. So, I went with the title above to emphasize that different circumstances are going to take us by surprise, but success always has and will continue to come from adapting to the circumstances.
Read more ...
Just a week ago, we posted a blog about what to do if your trade show events got cancelled, but now it is no longer a question of if, but for how long will events like these be cancelled. Everything has changed so rapidly in the past week, it's hard to believe that it's only been a week instead of a month. Changes have occurred rapidly as new information is released about COVID-19. We are amid a health crisis, and times such as these are affecting the global economy.
We understand that this health crisis is hitting many industries extremely hard, and our hearts reach out to you. We too are alongside you, experiencing these difficulties. In this blog, we are going to specifically address the restaurant industry. We know that this isn't something you anticipate when you sit down with your board and discuss potential threats to your company. These are hard times, especially because of the uncertainty. How long will this last? How long will we be allowed to serve through delivery and curbside take out? Will any of our taxes be exempt? What kinds of changes do we need to make in wages and policy in order to make it through?
In an article posted by The Dallas Morning News, it addresses the announcement made by Governor Gregg Abbott. Schools, dining areas, gyms and bars are closed at least until April 3rd, 2020 statewide in order to limit the spread of the corona-virus. "While dining in at restaurants and bars will not be allowed, Abbott encouraged Texans to continue ordering food from local eateries for pickup or delivery". Governor Cuomo is announcing New York on pause. All non-essential businesses and gatherings are closed or banned for the time being (Department of Health).
Though dining areas are closed, drive-thrus, take-out and curbside service are allowed. We are here to help supply your printing needs to keep your restaurant running as smoothly as it can given these health crisis circumstances.
Curbside Carry-Out Signage
Banners, A-Frame Signs & Yard Signs - All of these can be used to show customers driving by that you are still in fact open for business or to show deals and items you are offering.
Menu Boards - Some additions or changes to menus might need to be made, or posting a menu in the front window might not be a bad idea for restaurants without a drive-thru who are still offering carry-out.
Flyers/Coupons - It might not be a bad idea to put a coupon inside of your carryout orders. Offers serve as an incentive to your customers to come back, and in a time like this, customers returning is a driving fear.
Check out these and other options we have available for signage here.
Other items to consider
If you already have an app, make it so customers can place curbside orders through your app.
Make your current menu (and updated menu if applicable) available either through your app or website.
If moving to delivery, make sure you call your insurance to see what needs to be done.
If serving alcohol, please investigate the local and restaurant laws, especially in regards to the type of license you hold. Please be cautious.
Adjusting menus. Some more upscale restaurants may need to make their menus cheaper by selling different items in order to make meals more within a $10-$15 range. many are out of work at this time, and you need to be conscientious of others and their economic standing.
The Thomas Printworks team is here to help where we can, we are hoping you and yours the best.
Are you wondering if your trade show, like many other events, will be cancelled? Then you're in the same boat as the rest of us... no pun intended.
A few cruises have been quarantined due to outbreaks of the COVID-19 virus, and the cruise industry is scrambling to make arrangements for the high number of cancellations and survive while their bookings are decreasing significantly (The Washington Post).
The NBA, along with other major sports, are postponing games until further notice because two NBA players tested positive for the coronavirus (ESPN).
President Donald Trump has issued restrictions on foreign travel in order to prevent an outbreak of the virus within the United States, and the traveling industry is seeing tens of thousands of flights cancelled (myFT).
Most schools have cancelled classes for the next few weeks, and many universities have shifted classes to meet online for the next while. Schools will determine the outcome of the semester remaining upon evaluation in a few weeks.
Even Disneyland, the happiest place on earth, will be closed until the end of March to comply with the executive order from the governor of California (CNN).
Numerous events have been cancelled, and by the looks of it, there's a great chance many trade shows will experience cancellation as well if you have not already been notified of a cancellation or postponement.
If you find yourself with a cancelled trade show, don't fret! Not all hope is lost. Direct mail and other channel marketing can be used as great tools to connect with attendees and potential customers.
Check out this infographic, including statistics regarding direct mail and other marketing channels: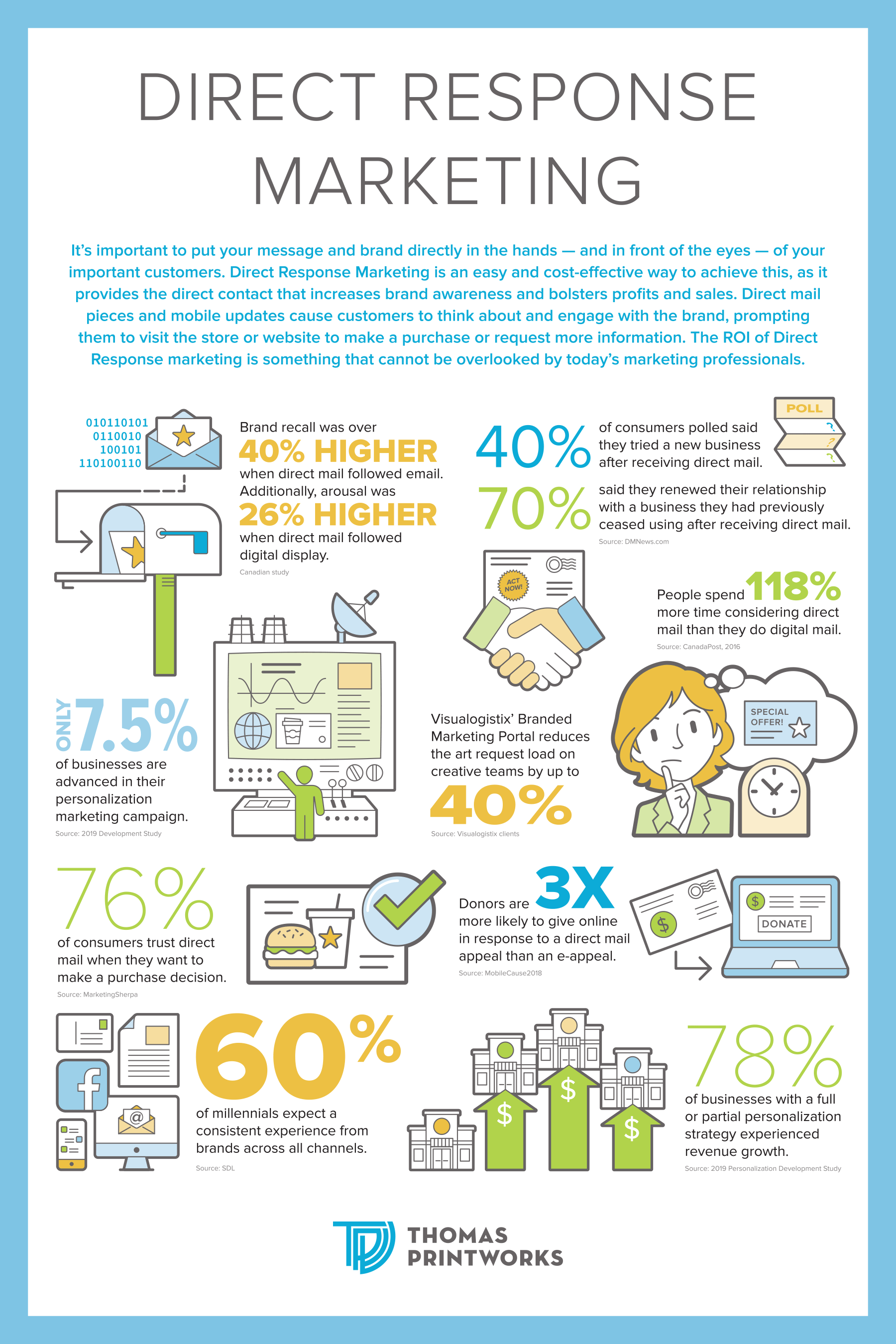 Need help organizing a direct mail initiative? We are eager to help. Write us the details and we will be in contact with you shortly.
What Our Clients Are Saying
"I greatly appreciate the customer service you always provide for us. Yesterday I placed a small but crucial order, and your turnaround time was spectacular. I especially want to point out that Meredith hand-delivered our order this morning. Our partners will have their signs for our demo showcase today. I love working with you all!"

Yvonne Karel
AMD

"The entire Thomas Printworks team has been an outstanding partner on our vehicle wrapping project for our 12 new company vehicles. From providing guidance on the most durable materials to making several dealership site visits with us to ensure you were prepared for the installs, the process was smooth and seamless from beginning to end... Thomas Printworks' final product has consistently exceeded our expectations."

Carmen Millet
Sunnova

"We can always depend on Thomas Printworks to have our printing completed and delivered on time which is crucial to our fulfillment operations at American Payroll Association. It is a pleasure to work with suppliers who are not only professional and honest, but who also provide accurate, prompt and courteous customer service on each and every job."

Jack Cervini
American Payroll Association

"Thomas Printworks has been a trusted partner with our various departments during preconstruction and construction phases. Collaborating with them has been a great experience. They truly 'get it' — it takes a great team to pull off excellent customer service through a fast track process and stay on budget."

Matt Blanchard
UEB

"We would like to give thanks to Kelly and all the staff over at Thomas Printworks. They truly earned our business! They have delivered and have never let us down. In fact, there have been times when we are in need of urgent printing, and they accept the work with no hesitation, knowing the unrealistic deadlines we provide them. We love the fact that their salesman, Kelly Tant, can take the time out of his busy schedule to come by our factory to check up on us or to hand deliver prints as needed. Thomas Printworks has earned a lifetime partnership with Vintage Air."

Mark Anthony Zarate
Vintage Air

"I have recently started using Thomas primarily for our CAD prints, and I am thoroughly impressed! I wanted to give praise to the team. I've ordered several B&W CAD drawings over the past couple of weeks, and I have been surprised by the quality and speed of service. In some cases, there was less than a one hour turnaround, which has such a positive impact on our office's productivity."

Bryt Hewson
HILGARTWILSON, LLC
Ready to Print?
Let's make some awesome together.
Get Started