Temperatures are cooling, but the political rivalries are getting heated. For these political campaigns, it's getting to the wire!
This is a campaign season like one we've never seen. Many of the ways in which campaigns have been conducted before are obsolete now. Knocking on doors and polls are out with the condition and spread of Covid-19. There are few rallies, but nothing like any of the political events that went on in previous years.
Television ads are still an option but considering how many people cut cable and switched to streaming services in leu of the pandemic. If you don't have an audience on TV, go to them.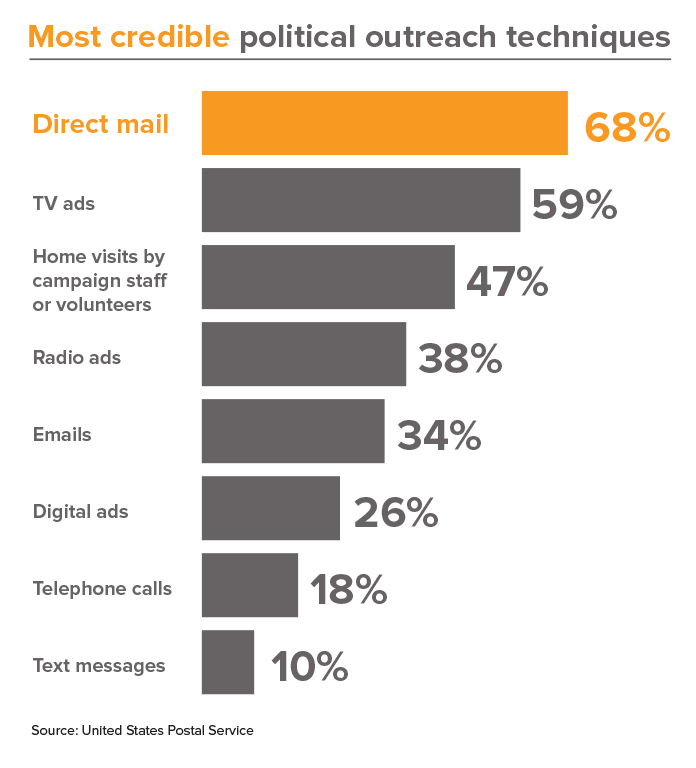 Direct mail is the way to go.
68% of voters believe direct mail to be the most credible source of political outreach.
67% of voters read mail on early voting registration
73% of Americans prefer first contact by mail when it comes to voting
55% of voters use mail to decide how to vote
6 out of 10 swing voters say political mail is helpful in their decision
2018 USPS
For the last 20 years, voter turnout has been about 50-58% of the Voter Population Age. But we shouldn't be surprised to see a significant increase of the voter turnout this year.
What sort of information should be included in your mailer?
82% want to know where the candidate stands on issues
74% want a contrast with an opponent on issues
73% want to know a candidate's voting record and any past statements made
60% want to see a list of who endorses the candidate
Improve the effectiveness of your campaign
By using Tactix360, we are able to add services connected to your mailers in order to gather data and impact your audience on different levels!
LEADMatch - Never guess again how effective your direct mail campaign was. LEADMatch enables you to track and record all website visitors that came as a result of your mailing and see what actions they took, and mail to unique visitors who came to your website who weren't on your mailing list!
SocialMatch - SocialMatch matches your mailing list to Facebook and Instagram user accounts. Your target market will not only receive the mailing, but will be delivered the same message in their Facebook feed, even before they visit your website!
District Targeting – A geographical target of people that are within your voting district on both Google and Social Media. You can also segment that target audience by identifying the highest probable voters. Targeting parameters include: congressional district codes for any specific region (i.e. FL-14), affinity audiences (i.e. those more likely to interact with news and politics, current political news, etc.), age, gender, and household income.
Time is quickly closing in on election times, so if you were looking to get a mail piece out, act now.
Click here to download our eBook about how Tactix360 can build your political campaign, or send us a message!